Pay online for the product and services™

All purchases are subject to 30 days full refund guarantee. We use FedEx to deliver our product worldwide at no extra charge.

All charges are in US Dollars.

Canadian customers please contact us for instructions

Package

Software *

One Year Maintenance **

Data Load ***

Price

Basic


$999

Silver


$1,749

Gold


$2,749

Platinum


$3,749

A LA CARTE

$999
One-time

$999
Per Year

$2,500
One-time

Choose
Amount


[*] e-Commerce customers only - 30-day money back guarantee! Four run-time modules included (Options, ESPP, Valuation, ASC 718 (FAS 123R) Compliance 10-K/Q Reports and Insider Reporting, SEC Forms 3, 4 & 5). Includes 12 months of unlimited Support and Maintenance and 2 training sessions!

[**] Application and technical support is available from 8 AM to 6 PM EST M-F via an 800 #, e-mail and online chat-room. Guaranteed are a minimum of 4 software upgrades per year.

[***] Includes system set-up (prices, vesting schedules, plan information) and data conversion/loading (grants, exercises, dispositions, ASC 718 (FAS123R) fair value, espp contributions, espp purchases, etc.) and reconciliation. One week turnaround time guaranteed on all data loading projects (from Excel templates provided by us).


Product description:




Easy Options/ESPP Custom ™ stock options tracking software includes four integrated modules:

Stock Options,
ESPP
SEC 16 - forms 3, 4 & 5
Valuation / includes Black-Scholes single/multiple option, Binomial lattice modeling -- ASC 718 (FAS 123R), 10-K proxy reporting.

Our software solution contains over 170 customizable reports, 500 pages of user documentation (including detailed reports description) and a training presentation.




Contact and customer service address: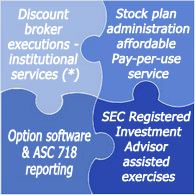 Stox 4.15.814 released NEWS
9/14/2023
Stox 2023 Q3 edition with significant performance boost in quarterly reporting...
Consulting Services
3/24/2008
Over the past several years EZCS has received many consulting requests from our clients. As we approach 200 software clients, we are pleased to announce the formation of EZ Custom Consulting Group!
2/17/2007
Easy Custom Software Solutions has been nominated for the Vendor of the Year Award by Compliance Reporter magazine. This award is to be given at 2nd Annual Chief Compliance Officers Forum healed in New York on March 14-15, 2007
Stox Private/Ownership &
Stox Multi-currency

More products from us:
- for stock ownership & private companies,
- for companies that grant and exercise options in foreign currencies...
Black-Scholes/Lattice at Glance

Did you know that Easy Options/ ESPP Custom (tm) is fully compliant with ASC 718 (FAS 123R) valuation modeling and reporting requirements...